I love this look – classic with loads of personality is how I would describe the look!  It was great to finally meet you today!
You might also enjoy...
So I have been dying to get my hands on a Flip and finally I have!  The Momental Girls and I put together a fun movie to wish everyone a very Happy New Year!  We had a blast in 2009 and are excited for what is to come!  This  quote from one of my favorite childhood movies, Anne of Green Gables, seemed to be the perfect beginning.   CLICK HERE TO SEE THE MOVIE!
You might also enjoy...
Several months ago, on the recommendation of Liene Stevens, I began following, Unruly Things.  Alyson, the author, gathers a variety of mindful inspirations drawing from all outlets, including photography, fashion and everyday life.   Recently she shared details regarding the opening of Saipua's new shop in Red Hook, NY and shared these gorgeous images.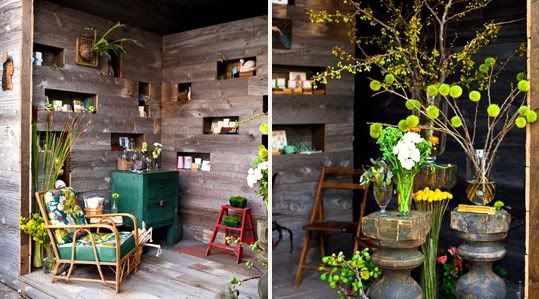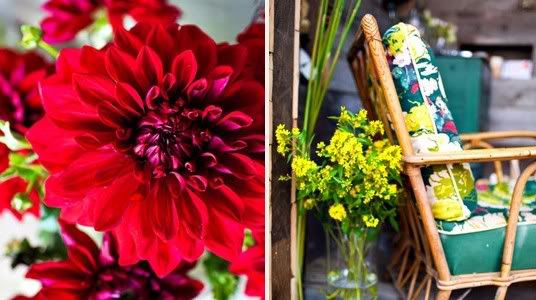 Lovely images by Mindy Best
What struck me most about the Saipua photos is the playful mix of contrasting details; rustic and refined, new and weathered, rough and smooth.  So I began with one of my newest design collections -Sculpted Blooms.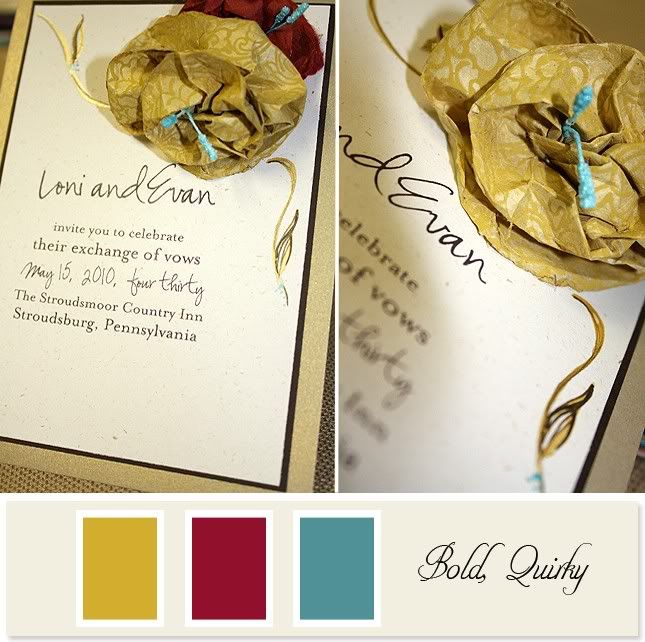 The blooms made from patterned handmade paper in shades of rich yellow and red contrast playfully with the muted aqua stamens.  Touches of gold and the texture of tree-free papers present that unexpected contrast I love so much!
So I'm curious – how are you using the idea of contrast in your planning?
You might also enjoy...
Wow – loving the boldness of the center rose!
I created new rose artwork to give a fuller more lush look!  This look will be stunning in letterpress with the soft pink washes of watercolor and fuchsia hand-painted pattern.  I experimented with two color options for the outermost invitation border – I love the brown paisley from Envelopments®!
I thought the brown pasiley on the Mehndi invitation worked well and would coordinate beautifully with the main invitation!
You might also enjoy...
The drama this new color palette adds is striking.  I experimented with a gunmetal pattern outer border.
The neutral color palette is gorgeous…
I had a blast with the Sculpted Bloom and peony illustration!  The look is quite lively but still elegant and sophisticated.
You might also enjoy...
Inspired Ink posts were originally begun on my blog in 2007.  This past summer I began blogging for Weddingbee PRO and decided to share  my Inspired Ink posts with the PRO audience.  As I am sure many of you know Bee Kim, founder of Weddingbee.com recently gave birth and thus decided to put Weddingbee PRO on ice for a few months.  We all wish Bee some much deservedrest and time with family!
So Inspired Ink has returned here  but for the next few weeks I would like to share my creations until now only seen on Weddingbee PRO!  Enjoy!
As originally posted on Weddingbee PRO:
"Inspired Ink" began as a weekly post on my personal blog last year.  The idea is to take an image that inspired me the previous week and create a custom invitation based on that same image.  One of my favorites from earlier this year was a little number I created after finding what I call "Suspended Orchids" on Karen Tran's enchanting blog.  I just loved the sparkle and shine she captured as the sunlight trickled through the glass spheres and felt compelled to capture the look on paper!
So each week I plan to continue my "Inspired Ink" tradition as an exclusive-to-Weddingbee PRO post! This week I chose an Edward Hopper painting titled "Le Bistro / The Wine Shop",  1909.  The mood captured here is what I find most striking; calm and serene.  The Silvery blues, grays and a touch of sienna and scarlet (more visible in person) come together beautifully in this canvas I had the pleasure of viewing in person last week at The Whitney.
I combined our newest Swoosh and Swirl pattern with hand-painted strokes of white plus tiny red dots in scarlet ink.
Find an image that catches your eye and would like to inspire one of my posts?  Send me an email, your image and a short description to kristyrice@momentaldesigns.com
You might also enjoy...
First can I say I just adore this color palette!  It is so appropriate for a child's birthday celebration.  I incorporated several characters to complete the Alice in Wonderland illustrated border.  A Portable Pocket® from Envelopments® seems like the perfect presentation option all tied up with a satin knot!
You might also enjoy...