I thought this might be fun…here are 10 random facts I wanted to share. Comment if you like – but be nice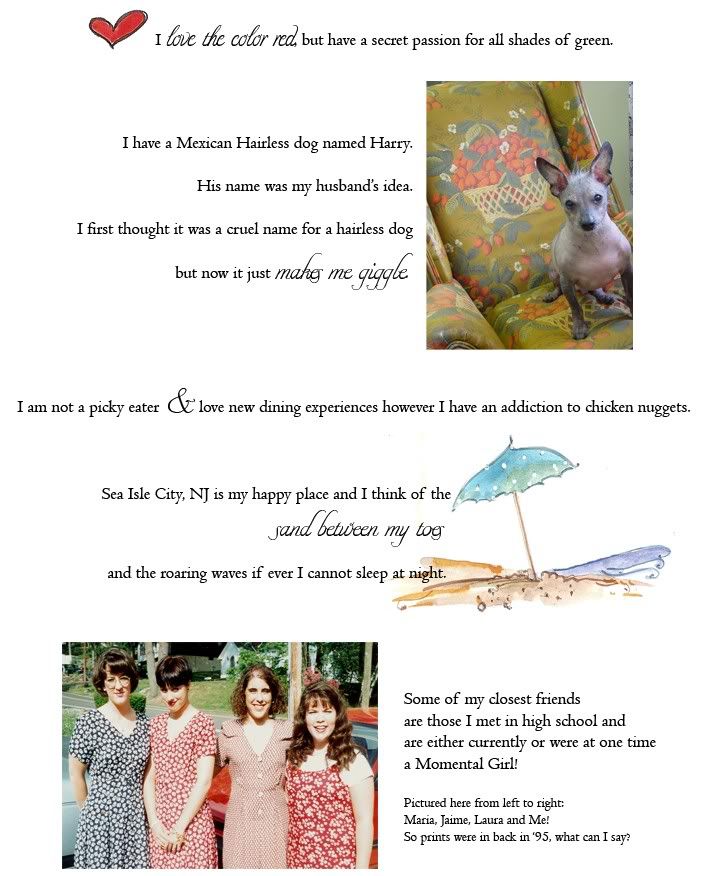 You might also enjoy...

This week I am wrapping up a creative project with The Wedding Diva, Linnyette Richardson-Hall, savvy event planner and two of her favorite vendors in the Baltimore area (Richardson's Flowers & Gifts and Gala Cloths) I was honored when asked to collaborate on four tablescapes to be featured at The I DO Brunch in April.
"The "I DO BRUNCH" is a networking event for wedding planners and coordinators that will offer an unprecedented chance to discuss in a open environment, the many challenges professional planners face in today's wedding industry. Beautiful decor, lively entertainment and great giveaways have been carefully orchestrated with some of the region's finest companies to make this a one-of-a-kind experience!"


Linnyette gave the collaborating team a bit of color direction (green, purple, spring, garden feel) but essentially allowed our imaginations to run wild! I created four inspiration boards to help the process and ensure my pieces will flow perfectly with the linens and floral design. I am so excited to create a full collection of menus, table numbers, seating cards and more – be sure to keep an eye out for another post with photos later next month!
You might also enjoy...
I am so thrilled and honored to have the RiceInk blog named amongst the Top 100 Wedding Blogs and Twitters to follow in 2009!! The list includes the "best & most popular active wedding blogs that truly create, drive and inspire the pulse of our bridal industry".
I am just floored to be on the list with so many inspiring bloggers. To be grouped with such creatives as StyleMePretty, BlueOrchidDesigns, Southern Weddings and more makes me just dizzy!
Sending a big thank you to the editors at BrideTide.com from The Momental Girls!
You might also enjoy...
I am so inspired by Carrianne and Jeffrey's wedding to come in 2010, I just had to share some details right away! I often am asked to "just create", or "run with" and idea in the hopes I will capture a moment or a certain feeling in the watercolor illustrations that put the Momental in Momental Designs. Carrianne called me several weeks ago admitting she "didn't care much about invitations" until she saw my current projects page. She spoke of the live oak trees present at her much loved reception venue The Ribault Club in Port George, Florida. She wanted her guests (most traveling from out of state) to immediately have sense of southern charm and felt the stately live oak was the perfect imagery. Other than her heartfelt words I had little other direction.
I immediately thought of a much loved storybooks from my childhood, namely The Velveteen Rabbit which for some time I insisted my Dad read to me every night. I recall the soft watercolor illustrations that become so dear and gave me such comfort. I decided that my illustration for Carriane's wedding invitation should have a similar feeling – one of welcome, comfort, charm, softness and history.

You might also enjoy...
It is yet another busy day in the studio for the Momental Girls. Everyone was so quiet today – diligently working on Susan's, Elana's, Karen and Kirsten's orders. I just had to liven things up and what a better way than some candid shots of our invitation painting in progress.
A big thanks ladies for making everyday a new adventure and of course for the amazing work we do together!
You might also enjoy...
This is such a busy time of year at the Momental Studio but we are so thrilled and grateful to be creating some of the most fabulous designs of our careers! I have had so little time to blog this week but want to share a sampling of the exciting work passing through our hands. Check back over the next few days for a peak into the busy Momental Studio.
Pictured above: Watercolor illustration for Jennifer's June celebration, Valerie's Ivory and Blush Pink Sculpted Blooms, Ashley's Vintage Lacy Design in Lapis.
Pictured above: Rebecca's gorgeous Big Bloom Pink Hydrangea, Victoria's Lacy Pocket Style invites in powder blue and Trisha's illustrated monogram wreath invitation folders.
You might also enjoy...
Chelsie Anderson of Tree Line Photography captured these spectacular images – I visited the blog and could have browsed for hours. Be sure to stop by to see further into Angie and Ryan's day.


We created a lovely collection for Angie and Ryan. When Angie first contacted me she loved the impact of our big blooms collection but none of the illustrations seemed to fit the warm, color saturated look she was planning. I suggested the Dahlia and went to work on this watercolor piece. The Dahlia was carried throughout the day onto table numbers and programs.
You might also enjoy...