We created a colorful tree invitation for the couple and hand-painted save the dates all in shades of red and pink!
You might also enjoy...
To continue from 2 weeks ago as promised….
After our spa afternoon I surprised everyone with dinner at Ruth's Chris. I had been frantically planning this very small, but very detailed evening for weeks and worked very closely with the fabulous Dominick to ensure every detail was just perfect. I wanted everyone to experience a bit of luxury and detail.
I arranged for a signature cocktail which I named the "Momentaltini"- a blend of Effen Black Cherry Vodka, fresh lime and cranberry juice (YUM). The centerpiece by Kristen's Floral featured orchids and bamboo for a eclectic, dynamic feel. A copy of the Spring/Summer KNOT, satin pull thank you note and fuchsia satin wrapped favor box were placed at each setting.
Cathy from Truly Scrumptious Cakes created this very Momental cake as a gift of congratulations and I cannot say thank you enough. The raspberry chocolate ganache filling was simply delicious.
Overall the day of celebration was quite magical – I am blessed with an amazing team and look forward to many more adventures with the Momental Girls!

You might also enjoy...
It's a Jaime Thing blog is announcing it's very first giveaway this week and ladies be sure to check it out! Planning a smaller more Intimate Wedding – this book is for you and it could be yours! All you have to do is comment on Jaime's blog with your response to one of the following:
1. Your own creative Letter To The Uninvited.
2. Advice for brides looking to plan an intimate wedding.
You might also enjoy...
Name: Kelley Nudo

Position: Managing Assistant, the Momental writer and Bridal Show Guru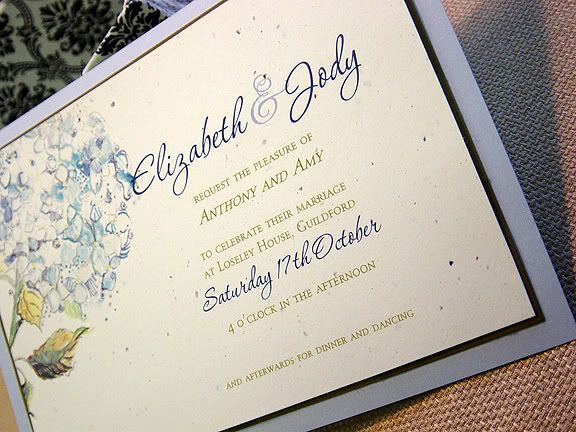 All time favorite invite: Thinking of my own wedding flowers, every time I see a bride select the blue hydrangea for their wedding stationery, it really tugs at my heartstrings. I pride myself as being Kristy's first bride to choose the blue hydrangea, however the design has certainly come a long way since then. As part of the Big Bloom Collection, the hydrangea has a certain softness and with an elegant feel, paired with the cool shades of blue, it is a perfect pick in my book!
Favorite color combination: In my mind, the soft shades of blue I used for my own wedding were a classic choice, but I am really loving the color combinations with shades of purples many Momental brides are requesting. Using purple in a monochromatic palette is really a treat for the eyes and translates so well with many flowers (i.e. orchids, lilies, hydrangeas, etc) Purple is passion, regal, and is somewhat of an unexpected color for wedding stationery.

Favorite embellishment: I love the pearls! I wear a pearl right-hand ring every day, so when I saw the new pearl embellishments on the Vintage Lace Collection, I fell head over heels. The use of the pearls on any piece of wedding stationery will be like adding little beads of elegance.

What has working at Momental Designs taught you? Even though I have a degree in Art Education, I spend most of my time at the studio writing, which I love! It is kind of funny how each person finds their niche at the studio, and I never thought mine would be in the realm of writing. I have learned countless skills at the studio, far too many to list. But I will list my top funny five:
1. Packing popcorn is worth more than gold.
2. Don't feed Harry mushrooms.
3. Sometimes its hard to find paper in an Invitation Studio.
4. Be extra nice to the postal workers.
5. Make sure you get a running start when pulling out the studio parking lot in bad weather.
Thanks for letting me share my Momental experiences.
You might also enjoy...
Name: Laura Popielarz
Position: Design Assistant, email pro, master organizer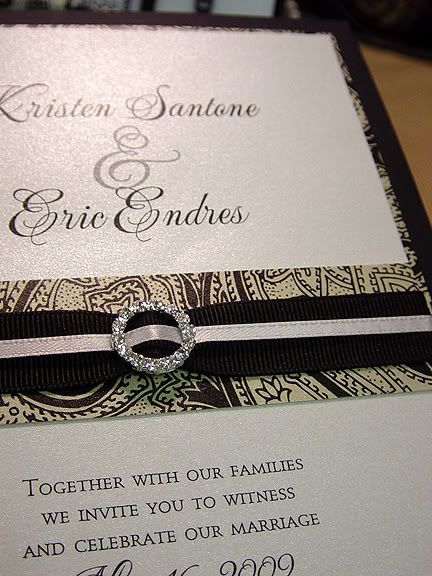 All time favorite invite:
My favorite invite has to be Kristen S.'s!! I love, love, love that it is black and white, minimal, with a reserved amount of bling! I am a huge fan of white space!

Favorite color combination:
I love black, white and silver together. This is my all time favorite combination.

Favorite embellishment: A small amount of bling. I also like paper wraps in a contrasting color.

What has working at Momental Designs taught you?
Working here has taught me so much! I have really learned to appreciate the variety of ideas that different brides have. It is always so interesting to see varying ideas and what they like in terms of color and layout. I really like to see the different materials that we use, they are always so beautiful! I defineltey love to see the new products, especially the embellishments, that we are working with! How fun!

You might also enjoy...

Name: Jaime Kapral-Hindmarsh

Position/Special Talents: Design Assistant, portfolio creator, master with buckles and rhinestones

All time favorite invite:
I LOVE bling! Anything with a buckle or rhinestones, I absolutely adore the vintage lacy stamp collection.
Favorite color combination:
Shades of ivory and white are so clean together, the textures are beautiful; I also have a soft spot for shades of pink!
Favorite embellishment: The Buckles!!!!
What has working at Momental Designs taught you?
Until working for Momental Designs I've never truly appreciated how amazingly different paper can be. We honestly use the highest quality papers and cardstock available plus all the color, pattern and textures! It's a really nice atmosphere to be surrounded by everyday! I now find myself comparing paper thickness and cardstock.
You might also enjoy...
We used a variety of roses from past invitations to bring the whole look together.
I went with a larger version of the rose from the last invitation just to give your guests a new version to enjoy!
Oooh I love it!
Hydrangeas galore!  I created three separate samples using shades of gold, sage green and a lovely patterned cardstock for added interest.
You might also enjoy...