I am off to wrap up design work for my last 08 clients and then to enjoy some fun times with my loved ones. I will be posting "here and there" over the next two weeks. Be sure to check back after the Holidays for some amazing real weddings (one from AZ with some amazing shoes), a peek at the new spring collections and lots more – so excited for 09!
You might also enjoy...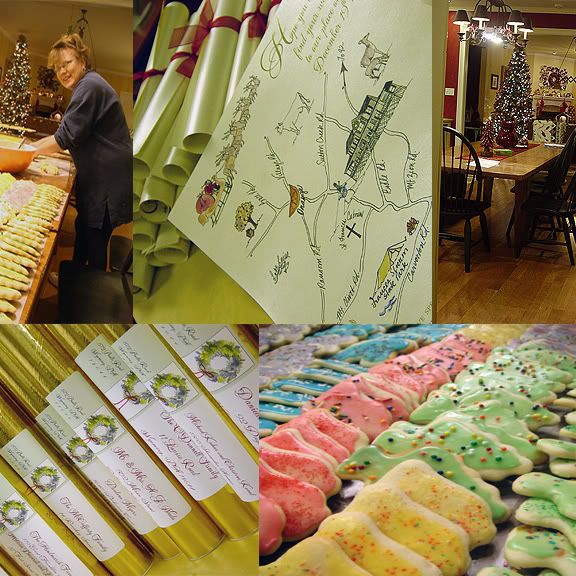 This week I am still baking like crazy in addition to wrapping up a bunch of last minute 2008 invitation orders – I am so grateful to be busy! Every year my mom and I bake Anise cookies. This cheerful cutouts flavored with the faintest hint of Anise oil are a family favorite. The light icing we color by hand has a lovely sheen and sparkle. We combine colors, sprinkles, sugars and a bit of love (sorry to be cheesy) to craft cookies that inspire rich memories and are as lovely to eat as they are to see!
I have been working like mad this week to prepare for our annual Holiday party on Friday. Several weeks ago I posted a peek at our holiday invite. The final invite was quite a feat. We printed my hand-drawn map on a shimmering stock, rolled, tied with double faced red satin, sprayed with a touch of evergreen scent and popped into a gold mailing tube from Uline. Our guests were quite surprised to receive such a package!
Next week I will be posting photos from our Holiday celebration by the very talented Shane East!
You might also enjoy...
A little Holiday gift from me to you! I receive so many emails asking "what font did you use in this invitation?". Here are three of my clients' favorites! These can be found at the best font site www.myfonts.com Enjoy!
You might also enjoy...

As promised I am excited to share more amazing details from Kelley and Ben's wedding this week! Let me start with the invitations!
Kelley chose a Pocket design in shimmering white. The lacy pattern was hand-pressed in white with raspberry hand-painted blooms. The pocket closure was individually wrapped in sage cardstock and white grosgrain ribbon then finished with a 2 inch Lacy square seal.
Some unique details: the amazing broach detail on Kelley's gown, Saint Anthony by the Sea Chapel in East Gloucester, MA and the lovely ring shot by Sarah Bastille Photography.
The Momental team created escort cards with alternating tent colors, the shimmering raspberry hand-painted bloom on each was my favorite! The program color palette featured alternating treatment of the tag detail, Lacy pattern and cover.
Kelley's scrumptious truffle favors were wrapped in olive green silk boxes then tied with raspberry grosgrain and personalized favor tag. The tag here also featured the lacy pattern in shimmering raspberry with a white on shimmer white border detail.
So what is your favorite detail?
You might also enjoy...
If you are not familiar with my Inspired Ink weekly post listen in…
Every week I choose a bouquet, gown, real wedding or anything that catches my eye, to use as inspiration for a new invitation creation. Inspired Ink posts are essentially pages in the sketchbook of my mind – layouts I always hoped to try, particular flowers I have wanted to illustrate, all inspired by the amazing images that can be found in the "blogosphere" every day. So thank you bloggers, brides, photographers, florists and more for giving me such wonderful ideas!!!
Last week Laura E. of Southern Weddings posted Courtney & Chris's perfectly pink day. I am so in love with the luscious peonies, poppies and not-too-over-the-top-pink color palette. Please correct me if those violet beauties are not poppies!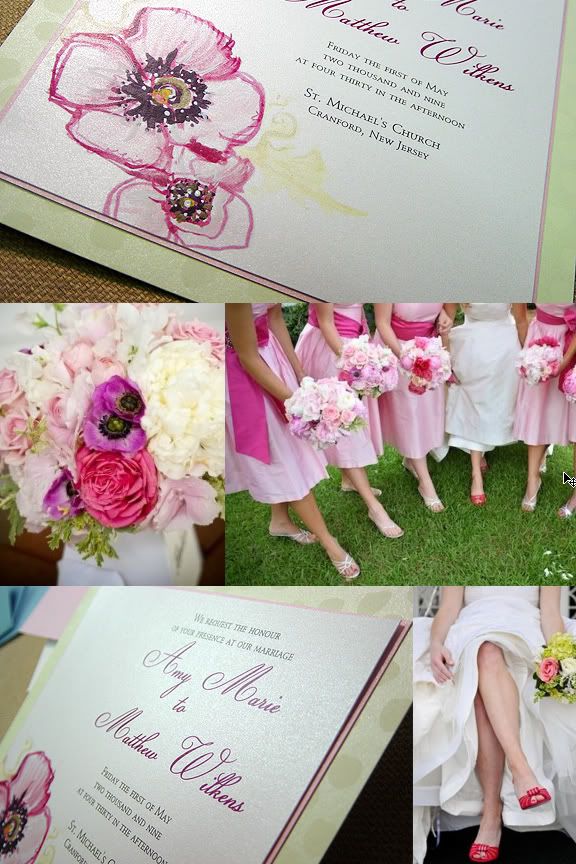 Day of photos courtesy of Heather Forsythe Photography
I created a washy and loose watercolor illustration but then added in accents of black ink and white acrylic to give contrast. I wanted my poppies to mimic the charm and personality of Courtney and Chris's affair.

I am a Southern Weddings blog fanatic and am very excited about their magazine launching in January. Lara C. and the ladies craft a daily read packed with inspiration, humor and southern style sure to give you much to marvel over for your own day!
You might also enjoy...
I am a big fan of ceremony programs! I can't think of a better way to include your guests and help them connect in a personal way to the ceremony. Often brides create very simple programs or exclude them totally for fear they will end up in the trash. I completely understand this fear but know of some great ways to ensure your guests will think twice before tossing their program after the ceremony. I am often asked to list some favorite details to include in a program so I thought I would share this list with you today!
Readings
Choose one or two of your favorites to be printed full length for your guests to follow along.
Thank you Note
Take some time to write a personal greeting of thanks. Your guests will certainly take notice.
Order of Service
Be detailed and specific, list all participants, music selections and readings. A nice detail –
include a sentence or two explaining the significance of each choice.
Timeline
Add a timeline mapping out the day…this detail give the program purpose beyond the

ceremony.
"Did you know?" page
This is a fun one! The program is a perfect place to draw attention to all those special details
you have worked so tirelessly to create. For example on my "Did you know" page I mentioned
that my aisle runner was hand-painted by several artist friends and that my grandmother's
broach was tied into my bouquet!
"Get to know the attendants" page
Instead of simply listing your attendants names why not include several sentences sharing
some fun. Here is an excerpt from Suzanne's lovely flip style program above.
"Groomsman
Taylor H.
Jason and Taylor met during their first math
class at Princeton. They went on to share
the same major, the same eating club, and even
many of the same friends. Sharing a love of
travel, they have been to California,
Switzerland, Paris, and even upstate
New York together. Taylor is generous, he loves
to laugh, and you can always count on having
fun when he's around."
The key to an engaging program that won't be left on the seats – make it personal, make it meaningful, make it detailed.

Have a unique program page you would like to share – please do!!

You might also enjoy...
To continue from last week I am excited to show you more from my holiday decorating craziness as I like to call it! Pictured below is my entry where green and silver tones abound. As a child my parents hung sleigh bells from the front door and rang them every night just as I fell asleep. The gentle jingle created much anticipation of Santa, in my mind. Today my silvery jingle bells remind me of this much cherished childhood memory.
I found these fun star wreaths at Pottery Barn years ago and have them hung from a curtain rod affixed to the wall. Photo ornaments hang from the center of each wreath with photos of family Christmases from years ago.
I started a tradition the first year in our home where I create a Christmas photo collage above our mantle. Every year we store away our beloved rose bouquet watercolor by local artist, Sue Hand and replace with a sugared fruit wreath and loads of photos from both Adam and my Childhood Christmas celebrations. I even include a tattered letter from my "Unkie" (Uncle Aaron) who every year posed as Santa and always left me a special note.
And here it is, our bathroom tree!! Years ago I worked at Bath and Body Works and began collection their yearly Bath inspired ornaments. My favorite is the Christopher Radko Santa taking a much deserved bubble bath!
Check back next week for cookie making galore!

You might also enjoy...