You might also enjoy...
Rebecca called me about two months ago with a lovely quote she wanted to center her entire invitation design around. The Vintage Lacy Tree was the perfect collection, so I created a tree-scape featuring a tandem bicycle.
Rebecca hoped her invite would speak of simple elegance with a vintage flare. The lacy wrap was the perfect touch of softness and nestles casually within the lovely poem…
If you are incorporating some sort of prose into your invitation – I would love to hear more!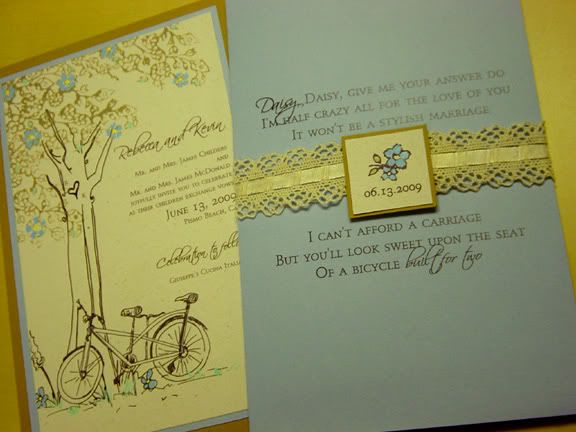 You might also enjoy...
The Wishpot Wedding Blog is a must read for any bride. As a Wishpot Wedding Expert I was asked to be a guest blogger today – take a look here! I am honored to be included with many other Wishpot experts such as Lara from Southern Weddings and Kathryn from Snippet and Ink just to name a few.
Be sure to stop by and you will see in seconds that the Wishpot Wedding Blog needs to be added to your daily read!
Here is a peek from my post today:

Caketoppers by Ann Wood Photos DVB Photography and www.MarthaStewart.com
You might also enjoy...
I don't know if anyone else feels as if November has just flown by…but I certainly do! I realized that I need to have my Holiday Party Invitations in the mail by next week!!! A hand-drawn map of my town as the centerpiece for this year's invite is an idea I have been cooking up since September. Since most of my guests live very near my home and have for their whole lives, I thought this would be well received. The hubby's family love nothing more than storytelling about fishing trips on Lake Louise or apple picking in Brace's Orchard, to name a few. I only hope that my little map will inspire more reminiscing!
You might also enjoy...
Wishpot is a super fun shopping site that allows you to create categorized wish lists of items. I am a Wishpot Wedding Expert which allows me to share Wishlists that are helpful for brides planning the big day. I have 8 lists covering everything from my fav housewares to jewelry and skincare! Once you create your Wishpot account you can install the "Add to Wishpot" button to make Wishlist building even easier as you shop and browse online.
Wishpot now has amazing registry features. You can register for items, honeymoon contributions and or donations to your favorite charity.
Be sure to check out the Wishpot Wedding Blog tomorrow for my guest post!!
You might also enjoy...
Heather and David 07.05.08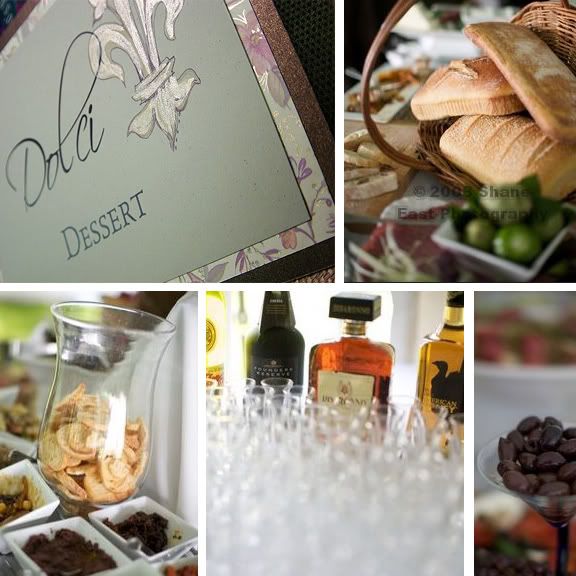 Heather and David are the most charming couple with their warming smiles and ever evident respect for each other. I first met with them over coffee earlier this year. Before we met I knew they were planning an Italian theme so I arrived with a new watercolor illustration of the Fleur de lis in hand. Heather fell in love with my artistic interpretation of this classic symbol. Shades of mossy green and shimmering brown were the driving force behind all stationery pieces from the invitations to menu cards.
The event unfolded under a crisp white tent where guests feasted on an extensive spread of Mediterranean fair. A Lemontini was the signature cocktail for the evening. The food photos above are so rich and enticing – is it lunch time yet?
You might also enjoy...

I was compelled to continue with the Liancarlo inspiration from last week. I can't get enough of the encrusted detail bodice! I am so drawn to the sparkle and texture. I decided to try my hand at a stationery inspiration board ( big thanks to Kathryn from Snippet and Ink for her daily gems). So many of my clients work with me very early on in the planning process. The custom samples I create for them become their own inspiration palette. Very often my samples find their way to florists, caterers and beyond as each bride orchestrates the many details that craft her perfect wedding!
This week The Vintage Stamped Tree is the focus. The lacy pattern mimics the lush boughs of a tree. I hand-painted each bloom with sheer shimmer ink for a glistening effect. You can almost hear the wind rustle through the leaves. A sleek band and hand-stamped tag finish this luxurious look. A combination of linen and shimmer texture stocks gives a dimensional feel overall. Initials "carved" into the tree are a small but personality packed detail that I just adore.
Photo courtesy of Liancarlo
You might also enjoy...